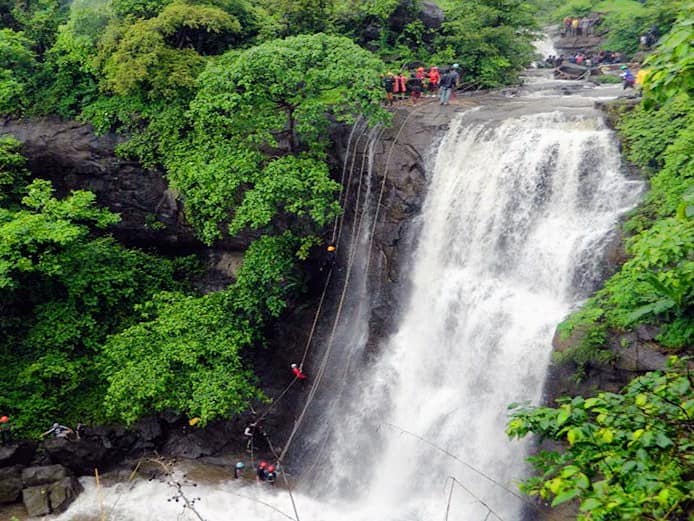 One of the most popular and famous waterfalls near the Mumbai location. Most of the students bunk their college and visit this waterfall in the monsoon. Reaching Bhivpuri waterfall is easy and convenient for tourists.
Bhivpuri waterfall is located in the Umbroli village near Karjat. The waterfall falls from the Matheran hill range of mountains and many other small waterfalls are visible in the monsoon season.
How to reach
The easiest way to get here is to catch a train from the central railway station and come to Bhivpuri road station. Karjat and Khopoli train will take you to this station or if you are coming by vehicle, take Kalyan - karjat road and drive to the Bhivpuri. It is a straight road from Kalyan to Karjat.
Some of the people come from the Karjat railway station to have the famous 'Karjatcha Vada Paav'. Those who are coming from Karjat railway station can take an auto to reach Bhivouri waterfall. The auto will drop you at the entry point of the village from there you have to trek for 15 to 20 mins to reach the waterfall.
Nearest Railway Station
Nearest railway station is Bhivpuri. It is located on the central railway. It is 3 km away from the Bhivpuri railway station.
Things to do at Bhivpuri Waterfall
Most travel companies arrange water repelling at the waterfall for some exciting and thrilling experiences or you can have a good bath at the waterfall.
Places to visit near Bhivpuri Waterfall :
Zenith Waterfall
Bhagirathi Waterfall
Haji Malang