Malshej Ghat is one the best ghat in India. The beauty of ghat is tremendous. Everyone loves this place and they wish they visit it, again and again, this place. Malshej is covered with huge mountains and with lots of trees. The Malshej ghat is around 700 meters from sea level. Malshej ghat connects Thane and Pune district, which is one of the major routes that will take you to Ahmednagar from Mumbai. Malshej ghat is surrounded by the Sahyadri mountain range. This ghat is located on the east side of the Thane District. Malshej Ghat is located between Thane's Murbad and Pune's Junnar taluka.
How to reach Malshej Ghat
Mumbai to Malshej Ghat
Malshej ghat is around 120 kms from Mumbai and it will take around 3 to 4 hours to reach you by vehicle. Kalyan onward road is single ways so it takes time to reach there. By road you can follow this route Mumbai - Kalyan - Murbad - Malshej. The nearest railway station is Kalyan and it is 85 kms and you will get state transport buses from Kalyan as well./p>
Pune to Malshej Ghat
Malshej ghat is around 120 km and there is only a road route to reach Malshej. You can take the State Transport bus which is going to Aale phata or the Kalyan bus via Murbad. If you coming by your vehicle then take the Pune-Narayangaon road from there take the Narayangaon-Murbad road this route will lead you to your destination.
Nearest Bus stand
Nearest bus stand for Malshej is junnar which is 27 km toward the Pune district and the Murbad bus stand is close to 60 km toward Thane district.
Nearest Railway station
Nearest railway station is Kalyan Junction and it is 86 km away.
The nearest airport
Mumbai and Pune International airports and both airports are 125 km and 121 km.
Local Transportation
Malshej is a very less populated area so there is no major development done here yet. If you want to take any kind of transportation to reach there and explore the place you can hire a taxi or take State Transport bus services from Murbad or Junnar city.
Waterfalls in Malshej Ghat
There are plenty of waterfalls in the Malshej Ghat region. The government constructed safety rods and pillars near waterfalls for the safety of the tourist. Tourists from Mumbai and Pune region come here every rainy season to get wet themselves in waterfalls. In weakened you will see lots of people visit Malshej ghat to get out from cities life.
Trekking at Malshej
Yes , Trakking is allowed in Malshej ghat region.Most experienced trekkers arrange trekking on Malshej hills. There are Bhairavgad, shivneri fort, Jivdhan fort and many other forts near to visit for trekking.
Places to visit near Malshej Ghat -
Pimpalgaon-Joga Dam-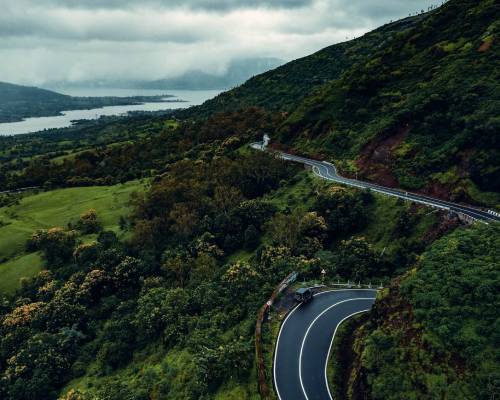 This is one of the best places near Malshej. This Dam is constructed on Pushpavati river Junnar, Pune. The main purpose of this dam is to provide water for farming, commercial and residential use in Parner, Junnar, Aalephata, Otur and Narayangaon. Dam's height is 28.6 m and the length is 1560 m. Near this dam, lake campaigning is developing which increasing the number of tourists near this place. This place also attracts migrant birds and they rest for someday here.
Shivneri Fort-
Shivneri fort is one of the major tourism in Junnar district it is only 30 km and it will take around 1 hour to reach there. Shivneri Fort is the birthplace of Chhatrapati Shivaji Maharaj the founder of the Maratha Empire. Shivneri Fort was built by Shahaji Raje father of Shivaji Maharaj. It will take 1 hour to reach the top of the hill where the Fort is constructed.
Bhairavgad Fort-
There are multiple fort names are Bhairavgad. This fort is located near Malshej ghat, Shirpunje village and it is 27 km from Rajur city. This fort is one of the oldest forts many historians believe that it was constructed 2500 years ago.
Kalu Waterfall-
Kalu Waterfall is one of the highest waterfalls in the Malshej region. Kalu waterfall is a less-explored place in Maharashtra. The height of the waterfall is around 1200 feet. The source of water is from the mountains of the Malshej and through here it's known as the Kalu river. The nearest village is Khireshwar from there you have to trek for around 4 to 5 hours to see this beautiful waterfall from the top of the mountains.
Reverse Waterfall-
Naneghat waterfall also knows as the Reverse waterfall. This waterfall is located in Junnar, Pune. The best way to reach there is to come to Vaishakahare village which is located on Murbad-Malshej road from there 3 hours of trek.
Weather
Malshej weather in the summer season is 36 degrees celsius to 20 degrees Celsius. In the rainy season, it goes from 25 degrees Celsius to 20 degrees Celsius. and in the winter season, it goes from 25 degrees Celsius to 15 degrees Celsius.
Best season to visit
The best season is between June to September months.June to September month is the rainy season and ghat turn to the green valley this looks so beautiful when you visit malshej. There are plenty of small and big waterfalls in ghats for tourists.