Kerala is a state situated on the tropical Malabar Coast of South India. The oldest Hindu kingdoms in India, the Chera, and the Ezhimala States were based here. This region is known by many names like Gods Own Country, Paradise Found and the land of Coconut trees. classified as tropical wet, tropical semi-dry and tropical semi-arid. Being a large stretch of land the climate of Kerala varies from place to place. The state gets rain for almost all the months of the year except for February and March. The summer season is from March to May with maximum temperatures averaging around 40 degree Celsius It will rain during the monsoon season (June to September) and the temperature will decrease during this period. This is the best time to visit Kerala as it will be less crowded and you get to enjoy the beauty of nature at its best. Kerala is the most famous tourist state in India and lakhs of tourist visit every year Kerala. Kerala developed very good tourism and it attracts people to visit. The capital of Kerala is Thiruvananthapuram and Kerala's official language is Malayalam. The literacy rate is above 90 per cent and it is the highest in India. Here we are with the list of must-visit places in Kerala that you should not miss on your trip to this beautiful state.
Cochin
Also known as the Queen of the Arabian Sea, Cochin is a beautiful coastal city and is the largest city in Kerala. This former Portuguese colony is adorned with beautiful churches, old synagogues, and ancient Hindu temples. You get to experience a fusion of Indian, Islamic, and Western cultures here. It is an island fort which was built by the Portuguese in the 15th century and now houses museums, churches and other historic buildings. is a large park situated on the banks of the River Periyar? It is famous for its numerous gardens, natural habitats, museums, sculptures and architecture from the Portuguese and British eras. The botanical gardens, in particular, house several rare and exotic plants. Close to Cochin Airport, Mahe in India, this place is easily accessible. Cochin is one of the most important cities in Kerala. You will see the development from sea to land.
Places to visit in Cochin
1- Lulu Mall 2- Cherai Beach 3- Marine Drive Cochin 4- Andhakaranazhi Beach 5- Folklore Museum
Nearest railway station
Ernakulam - 3 km
Nearest Airport
Cochin
Munnar hill station
The jungly hill station of Munnar is one of the best places to visit in Kerala. The scenic town is famous for its tea plantations, Eravikulam National Park, Anamalai Wildlife Sanctuary and Vedanthangal Bird Sanctuary. Visitors can enjoy nature walks and hiking to see the beautiful natural surroundings. The town is also known for its colonial-style architecture and markets that sell handmade goods. Munnar is the most famous hill station in Kerala. It is 1600 meters above sea level and it was the Britishers summer resort in British India Raj. Munnar is also famous for its tea plantation.
Places to visit in Munnar
1- Eravikulam National Park 2- Anamudi Peak 3- Mattupetty 4- Pallivasal 5- Tea Museum 6- Wonder Valley
Nearest railway station
Aluva - 108 km & Ernakulam - 125 km
Nearest Airport
Cochin 110 km
Thekkady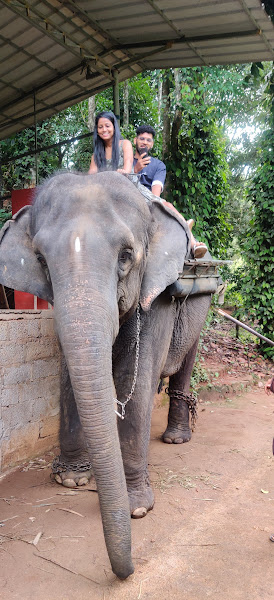 Thekkady is a small town in the south Indian state of Kerala. It is located in the Periyar Wildlife Sanctuary. The town is the entry point for tourists visiting the wildlife sanctuary and river rafting. Thekkady is also famous for its toddy shops and spicy food. The Periyar Lake is located inside the Periyar Wildlife Sanctuary. Thekkady is the entry point for tourists visiting the wildlife sanctuary. On your way to Periyar from Thekkady, you will pass by this picturesque lake that forms the starting point for various boating trips on houseboats and canoes. The lake is named after the former governor of Madras, Lord Mountstuart Douglas. You can also enjoy canoeing and boating on the lake. The lake is known to harbour Indian roller and other species of birds. You can take a private jeep tour to the Periyar Wildlife Sanctuary and see the traditional dance show of Kerala. Thekkady is 85 km of route and most of this route is covered ghat.
Places to visit in Thekkady
1- Periyar National Park 2- Chellarkovil Viewpoint 3- Abraham's Spice Garden 4- Elephant Junction 5- Periyar Lake
Nearest railway station
Kottayam - 114 km
Nearest Airport
Cochin- 190 km & Madurai ( Tamilnadu) - 136 km
Alleppey
Known as the Venice of the East, Alleppey is one of the most famous tourist destinations in Kerala. This town is situated on the west coast of India and is an important port city. Tourists can enjoy a beautiful boat ride in the canals of Alleppey, which is reminiscent of the ones taken in Venice, Italy. Allepey is - 2.7 meters below sea level. The town is famous for its hand-made silk sarees, which are sold at competitive prices. Tourists can visit the main market of Alleppey, where these sarees are sold in abundance. Apart from shopping, tourists can enjoy a relaxing massage at Alleppey. Allepey is majorly famous for Backwater and houseboats. In Alleppey Backwater approximately there are 1000 + houseboats and you will get affordable luxury houseboats. This is one of the best parts of Alleppey.
Places to visit in Alleppey
1- Alleppey Beach 2- Vembanad Lake 3- Shikara ride Alleppey 4- Alleppey Market 5- Marari Beach
Nearest railway station
Alleppey - 0 km
Nearest Airport
Cochin - 78 km
Kovalam
This 1-mile (1.6 km) stretch of sand is one of the longest beaches in Kerala. It attracts tourists and locals alike, who come to swim, surf and sunbathe. The waters are calm and safe for swimming, and the beach is lined with restaurants and shops. At night, it comes to life with music and dancing. Kovalam beach is one of the cleanest and most beautiful beaches in Kerala. Beachside hotels attract tourists to spend time in hotels. You can find lots of beach-touch resorts to stay here. People who visit Tiruvanantpuram usually stay in Kovalam.
Places to visit in Kovalam
1- Kovalam Beach 2- Hawah Beach 3- Lighthouse Kovalam 4- Samudra Beach
Nearest railway station
Trivandrum - 20 km & Kovalam - 0 km
Nearest Airport
Thiruvananthapuram International Airport - 18 km
Wayanad
Wayanad is a picturesque forest district in the southwestern part of Kerala. It is situated in the Northwestern part of Karnataka. The area is renowned for its natural splendour and bountiful nature. Forest camps, Ayurveda, nature trails, water sports, and plantations are the main attractions of Wayanad. The district is famous for its variety of wild animals such as bison, black buck, tiger, leopard, and jungle cat. Apart from this, the district is also home to various bird species such as kingfisher, roller, drongo, cuckoo, and robin. If you love water sports, Wayanad is the best place for you. The district has many rivers and lakes which are well known for river rafting. Apart from this, the district also has good facilities for kayaking and canoeing. You have to get in touch with the Inland Water Sports Centre to avail rafting, kayaking, and canoeing facilities.
Places to visit in Wayanad
1- Edkkal Caves 2- Banasura Sagar Dam 3- Pookode Lake 4- Neelimala View Point
Nearest railway station
Trivandrum - Kozhikode - 86 km
Nearest Airport
Kozhikode ( Calicut) airport - 95 km
Jatayu Statue Kollam
This statue is a beautiful piece of art and architecture. It is a must-visit for all tourists visiting Kollam. According to Ramayana when Raavan abduct Sita and takes her to Lanka Jatayu tried to rescue Sita from Raavan. Jatayu failed to save Sita and Raavan cut Jatayu's one wing and Jatayu fell on the hill. Jatayu statue is in the Kollam district and this sculpted by Rajiv Anchal.
Nearest railway station
Trivandrum - Kollam - 36 km
Nearest Airport
Thiruvananthapuram - 45 km
Thiruvananthapuram
Also known as Trivandrum, it is the capital city of Kerala and is one of the most popular places to visit in Kerala. It is famous for its museums, parks, malls, zoo, trading centres and its culture. Lulu Mall and Mall of Travancore are famous malls in Trivandrum. Places to visit in Thiruvananthapuram
Places to visit in Thiruvananthapuram
1- Thiruvananthapuram Zoo 2- Padmanabhaswamy Temple 3- Hawa Beach 4- Poovar Island 5- Mall of Travancore and Lulu Mall
Nearest railway station
Thiruvananthapuram
Nearest Airport
Thiruvananthapuram
How to reach Kerala
There are multiple sources to reach
By Air
There are three major airports in Kerala, Cochin International Airport, Kozhikode International Airport and Thiruvananthapuram International airport. If you come to Cochin then you can plan your journey Cochin-Munnar-Thekkady-Alleppey-Kollam-Kovalam or From Thiruvananthapuram you can plan Kovalam-Kollam-Alleppey-Thekkady-Munnar-Cochin.
By Road
f you want to travel Kerala by road you can travel from your place and take National Highways 17,47 and 49 to reach.
By Train
You can start your journey from Ernakulam which is very close to Cochin. You can plan this route Cochin-Munnar-Thekkady-Alleppey-Kollam-Kovalam. Transportation - Kerala is a very developed state compared to any other state of India, you can easily find a local or private bus or taxi to your way. If you want a comfortable journey then you can book a private cab online or if you are a bike rider you can also get a bike to rent near Ernakulam.
By Sea
You can reach God's own country by sea as well. Cochin is one of the major docks in Kerala and from here you can take your cruise to your origin places.
Tourist places distance
Cochin to Munnar - 127 km
Munnar to Thekkady - 85 km
Thekkady To Alleppey - 154 km
Alleppey to Kollam ( Jatayu Statue) - 113 km
Kollam ( Jatayu Statue) to Kovalam - 63 km
Cochin to Wayanad - 260 km
Kozhikode to Wayanad - 86 km
Best Season to visit Kerala
Monsoon - The monsoon arrives here end of the May or first week of June. Kerala receives very heavy rain in the monsoon season. During this season tourists can stuck on their journey.
Winter - The climate in the winter season is an average of 30 degrees Celsius. Hill station places like Munnar, Thekkady and Wayanad like places goes below 15-degree celsius. This season is the best season for tourists to visit Kerala.
Summer - The summer season is very hot in Kerala, the temperature can go beyond 35-degree celsius in the region.