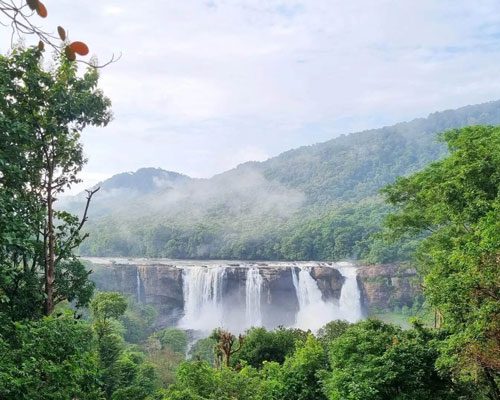 Athirappilly waterfall is one of the tallest and most beautiful waterfalls in Kerala state. This waterfall is surrounded by the middle of the jungle, once you see the waterfall you will love the waterfall. Athirappilly Waterfall on the Chalakudy River, Kerala.
Athirappilly Waterfall is situated in Athirappilly village in Chalakudy Taluka of Thrissur district of Kerala.
It is one of the tallest waterfalls and the height of the waterfall is more than 80 feet.
There is one more waterfall just 1 km ahead of the Athirappilly waterfall. Vazhachal Waterfalls is the name of the waterfall.
Chalakudy River originated from the Anaimalai forest of the beautiful western ghat. Chalakudy river travels around 145 km from the origination places and meets the Arabian sea at Ernakulam district.
Chalakudy river flow is very smooth but before reaching the waterfall the water of the river gets dangerous, river water becomes very turbulent till the next 1 km of the waterfall after that river water flows smoothly to meet the ocean.
Where is Athirappilly Waterfall
Athirappilly Waterfall is located in Athirappilly village, Thrissur district of Kerala.
How to reach
To reach the waterfall we have multiple options. You can hire a private cab from your destination or take public transport.
Once you reach you have to purchase a ticket to get inside. This trek is very well developed and has a good quality road to walk. It would take around 20 to 30 minutes to reach
Thrissur to Athirappilly Waterfall - 59 km
Ernakulam or Cochin to Athirappilly Waterfall- 85 km
Munnar to Athirappilly Waterfall - 133 km.
Kerala is very developed in terms of tourism you will find lots of options to reach here from anywhere
Nearest Railway Station
Chalakudy Railway station is only 32 km from the waterfall.
Divine Nagae Railway station is also 33 km from the waterfall.
Nearest Airport
The nearest Airport is Cochin International Airport and which is 50 km.
Why Athirappilly Waterfall is famous
The reason why this Athirapilly Waterfall is so famous is, It is so much beauty to see. This is one of the best places in Kerala. In south India, this waterfall is also known as the Niagara fall of India.
Most movies were shot here and the most iconic shots of the Bahubali movie waterfall scene were shot here. After the movie, this waterfall witnessed more and more tourists here.
Best season to visit
The best season to visit Athirappilly Waterfall starts from August to January. In the rainy season, the waterfall is very rude and the water level increases so may not be allowed or stuck anywhere to visit the waterfall.
Places to visit near Athirappilly Waterfall
Cochin
Thiruvananthapuram
Kovalam
Jatayu Staue (Kollam)
Thekkady
Hotels and Resort near Waterfall
You will find all types of resorts and hotels near the Waterfall. You will find them also on online booking sites.
Time and Entry Fees to visit the waterfall
8 AM to 6 PM
50 rupees per person
15 rupees for students
10 rupees for children
200 rupees for Foreigners
60 rupees for a still camera
400 rupees for a video camera
80 rupees for heavy vehicle parking
40 rupees for medium vehicle parking
30 rupees for light vehicle parking
10 rupees for two wheeler